Expert Closter Dry Cleaners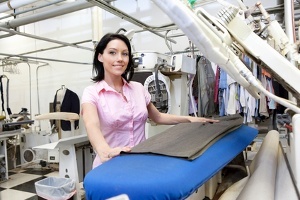 Keeping your clothes in excellent condition is a major priority to you, and you need to know that anyone you're trusting your clothing with is totally dependable. At Tumble In Dry Cleaners, our Closter dry cleaners can take care of any and all of your clothing needs, from dry cleaning and stain removal to alterations, or simple wash and fold services. We offer laundry solutions to help you keep your life as simple as possible, and our professionals have the knowledge, training, and experience to take care of any type of cleaning or care for your clothing.
We have pick up and delivery services along with our laundry services, so we'll be able to handle every aspect of the laundry job from beginning to end. We also offer specialized services like fur cleaning, and we can offer you storage solutions as well. Our goal is ensure that our customers are completely satisfied with our services, and we'll do whatever it takes to achieve that.
Call us today to schedule service, and we'll be looking forward to assisting you.
Laundry Services in Closter
Laundry is an essential task, and it's one that is never complete. Our Wash and Fold laundry services are designed to help you keep your laundry tasks and simple, easy, and fast and possible. We can pick up your laundry from your Closter home or business, then deliver it back to you, folded and organized, after the cleaning is complete. We'll be able to take care of any kinds of clothing or material, and we'll make sure that they're completely and perfectly cleaned.
We'll be able to accommodate any special requests you have for any garments, and we'll do whatever it takes to make sure that you're completely satisfied with all of our services.
Closter Dry Cleaning and Stain Removal Services
Many garments need extra care and can't be laundered normally. Closter dry cleaning services are a great way to make sure that more delicate articles of clothing receive all of the care and treatment that they need. Our Closter dry cleaners will be able to make sure that all of your garments are properly handled and fully cleaned. We can make sure that every piece of clothing you need dry cleaned is thoroughly cleaned, whether they've experienced normal dirtying or there are deep-seated stains.
Tailoring and Alterations
Your clothes need to be comfortable and attractive, so it's important that they have a proper fit. Our tailoring and alteration services can help you ensure that all of your clothing looks and feels its best at all times. Our professionals can work with any types of clothing, and we guarantee the highest quality workmanship possible.
If you're looking for dry cleaners in Closter, call 201-994-6797 or fill out our online request form.