Suede & Leather Cleaning in Mahwah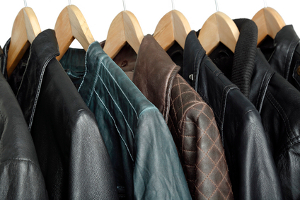 One of the most popular services we offer here at Tumble In Dry Cleaners is our Mahwah suede and leather cleaning. Suede and leather items require high quality special care; this maximizes the wearing life. Garments crafted from this type of material are meant to last for years and decades to come. But this can only happen if you invest the care needed to make it possible.
Our crew of expert Mahwah dry cleaners here at Tumble In Dry Cleaners has the training, skill and experience to get the job done. This means cleaning, taking care of stains and even storage of suede and leather. These materials are made up from the skins of various animals. Improper cleaning techniques will result in altering the manner in which these skins are meant to look and can cause dirt to set in as a permanent stain.
Professional Suede Cleaners
There simply is no substitute for proper suede cleaning. In order to make sure you do not compromise details such as color or texture it is essential that you trust in our professional leather and suede cleaners here at Tumble In Dry Cleaners to get the job done. Uniformity among animal skins in a garment may not be perfect and a cleaner who does not know how to properly handle this type of cleaning, could end up only making the differences more pronounced.
Each skin possesses its own colorfastness that may also be altered by cleaning. Let us show you firsthand what a difference you will see in your leathers and suede when you let our pros get the job done. Don't trust just anyone with caring for your fine garments crafted from this type of material. We can assure that you will be satisfied with the work we do to clean and care for your leather and suede.
Mahwah Leather Dry Cleaning
Another thing to keep in mind with this material is that difference textures vary in how they absorb chemicals during the cleaning process, which may result in some leathers darkening more than others. You need to know you are working with someone who understands this and knows how to compensate for this. At Tumble In Dry Cleaners we know you are going to love the final result of our cleaning.
Loss of tanners is another concern. This is what is applied to animal skin to preserve the supple feel. Some of these oils may end up stripped during the cleaning process. So it is essential to work with cleaners who know how to handle it correctly. If you are ready to get started, we can take care of your Mahwah suede and leather cleaning. Call us today to find out more about what we can do for you!
Our Mahwah Leather Cleaning Experts Provide:
Dry cleaning leather
Leather cleaning
Suede cleaners
Dry cleaning services
Leather dry cleaning
Dry clean leather jacket
Suede cleaning
Dry cleaning leather jacket
Professional suede cleaners
Suede dry cleaning
Leather jacket cleaners
Leather jacket dry cleaning
Latest Laundry Tips
Mahwah dry cleaning is essential for getting your toughest stains out. Trying to get stains out on your own can ruin certain materials. Over the counter stain lifters have chemicals in them that will get stain out, but also fade the fabric. This is why it's always best to take your clothes to a dry cleaner. You can actually do more harm than good by trying to take care of your own stained fabrics.

One of the many benefits that a professional Ramsey laundry service provider can take care of for you is pickup and delivery service. This certainly helps ease up your schedule. Life can become pretty hectic for all of us out there, so make it easier by not having to drive your laundry in. While not every laundry business offers this extra service, you should consider using one that does.

You invest a great deal of time, as well as money, in ending up with just the right wedding dress. What few bride-to-bes think about is what will happen to their gown once they move forward into bride status. Doesn't your bridal gown deserve the same happily ever after you do? Whether you plan to pass this down someday to your daughter for her wedding or not, it still deserves the highest level of care possible.
If you are looking for suede or leather cleaning services in Mahwah, then please call 201-994-6797 or complete our online request form.