Outstanding Dry Cleaners in Mahwah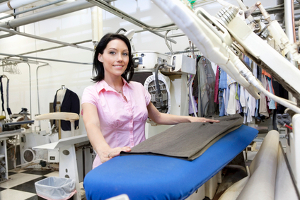 Tumble In Dry Cleaners is your premier choice for superior quality Mahwah dry cleaners. We invest the personalized level of care and attention to detail you deserve when it comes to trusting a company to take care of your laundering services. Our goal is to offer time saving services at competitive pricing and with the highest level of customer service.
We go above and beyond when it comes to taking care of your service needs. Which is why we offer pickup and delivery to commercial office buildings and residential homes. Just another way we want to save you time and make your life easier for you. We even include a complimentary bag with the first pickup.
Since 2011 we have been the name to call on for quality when it comes to dry cleaning and laundry. This includes specialized services such as fur cleaning and storage and tailoring and alterations, just to name a few. Give our professional dry cleaners a call and find out for yourself how our service has made us the number one name in the Mahwah area.
Mahwah Laundry Service
How much easier would your life be if someone picked up your laundry, did it for you and then delivered it back to you? If all you had to do was simply put your laundry away you would save so much time. At Tumble In Dry Cleaners that's what we want to be able to do for you by offering the best in Mahwah laundry service.
Our Wash n Fold service means you never have to give your laundry another thought, except for putting the clean clothes back where they belong. Our team of laundry professionals will give your clothing the personal care and attention you won't find elsewhere. Give us a call and let's get started today.
Laundry Pickup and Delivery in Mahwah
At Tumble In Dry Cleaners we work very hard to give you the most reasonable quality-to-cost ratio. You can't get a better price for the high standards of quality workmanship and customer service we deliver. We work with you to create a customized laundry plan that works for you, including making alterations to our standard pickup or delivery times, if need be. This means we also take into account any needs you may have such as dealing with stains or similar requests.
So what are you waiting for? We can take care of your laundry needs right away. Stop wasting time taking care of tasks that we could be taking care of for you. For all of your Mahwah dry cleaning and laundry service needs, call the Tumble In Dry Cleaners crew.
What Our Mahwah Customers Are Saying About Us
Tumble In Dry Cleaners is Rated: 5 / 5
based on this 1 happy customer review.
"Andrew gets the job done. Very friendly and best dry cleaner in bergen county hands down! I highly recommend his services."

- Joe Z. Mahwah, NJ | Rated: 3 / 3
Latest Laundry Tips
If you are looking for dry cleaners in Mahwah, then please call 201-994-6797 or complete our online request form.