Mahwah Clothing Storage Solutions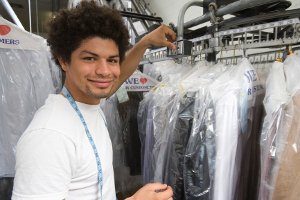 Some things need special care when it comes to Mahwah clothing storage. The last thing you need is to invest the time and effort into preparing something to be stored and then finding out it was ruined while in storage. Your attic or basement is rarely the ideal condition for storing certain items. The extreme heat of the attic or cool dampness of the basement can create a situation that actually more quickly deteriorates the fabric or material instead of preserving it.
There's always your closet but you really could use the space, not to mention this is still not the ideal situation for long term storage of certain materials. You invest the money into getting a storage unit and still end up with items that become ruined over time. So what's the better solution?
Our Mahwah dry cleaners can take care of storing these items for you. We have the ideal setting for the most delicate of materials. Even if all you need is the free space in your very own closet. Whatever the reason, trust the Tumble In Dry Cleaners name to get the job done.
Professional Storage for Clothing
We are known for being the ideal place for clothing storage in Mahwah. Wedding dresses, furs or off season clothing are ideal candidates for taking up residence in our temperature controlled space. We can take care of cleaning in order to prepare the items for storing.
After cleaning, we will store your items so that you never have to give them another thought – until it is time to use them again. Don't take a gamble when it comes to your most precious articles of clothing. Let us help you to have a place to keep them so they are safe but also don't have to occupy space you need in your own home.
Mahwah Clothes Storage
Different types of materials and fabrics require different types of storage settings. Of course you are not expected to know that but unfortunately too many people assume they know what they are doing when they carefully wrap their fur coat or silk wedding gown and store it in the attic. The problem is, the nest time they revisit this article of clothing they find out it is not in the condition they hoped.
Improper storage can actually do more harm than good. So don't take chances, just let us take care of the situation for you. It will also help you free up precious and much needed space in your house. For all of your Mahwah clothes storage needs, know that Tumble In Dry Cleaners does it best. We care about taking care of your belongings as much as you do.
Our Mahwah Clothing Storage Service Provides:
Clothes storage
Extra clothing storage
Baby clothing storage
Winter clothes storage
Seasonal clothing storage
Fur storage
Clothing storage
Storage for clothes
Wedding dress storage
Storage for clothing
Baby clothes storage
Sweater storage
Latest Laundry Tips
Mahwah dry cleaning is essential for getting your toughest stains out. Trying to get stains out on your own can ruin certain materials. Over the counter stain lifters have chemicals in them that will get stain out, but also fade the fabric. This is why it's always best to take your clothes to a dry cleaner. You can actually do more harm than good by trying to take care of your own stained fabrics.

One of the many benefits that a professional Ramsey laundry service provider can take care of for you is pickup and delivery service. This certainly helps ease up your schedule. Life can become pretty hectic for all of us out there, so make it easier by not having to drive your laundry in. While not every laundry business offers this extra service, you should consider using one that does.

You invest a great deal of time, as well as money, in ending up with just the right wedding dress. What few bride-to-bes think about is what will happen to their gown once they move forward into bride status. Doesn't your bridal gown deserve the same happily ever after you do? Whether you plan to pass this down someday to your daughter for her wedding or not, it still deserves the highest level of care possible.
If you are looking for professional clothing storage in Mahwah, then please call 201-994-6797 or complete our online request form.