Phenomenal Paramus Dry Cleaners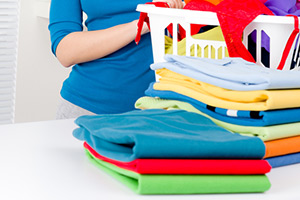 If you are in the market for the best Paramus dry cleaners, you have come to the right place. We provide the customized level of care and eye for detail you deserve when it comes to trusting a professional to take care of your laundering services. Our mission is to offer time saving services at more than fair and reasonable prices and complete with superior customer service and satisfaction.
We don't just want to meet your expectations, we aim to exceed them. This is part of why we offer convenient pickup and delivery to your home or place of business. We see it as another opportunity to save you time and simplify your life. You will even receive a complimentary bag with the first pickup.
Since 2011 we have been the name to call on for excellence when it comes to dry cleaning and laundry. This includes specialized services like alterations and tailoring, bag cleaning, stain removal and Wash n Fold. Call us right now and learn more about how our service has made us the number one name in the Paramus area.
Paramus Laundry Service
Can you imagine how much easier your life would be if you had the equivalent of your mom still around to take care of washing, drying and folding your clothes? If all you had to do was simply put your laundry away you would save so much time because we even pick it up and deliver it to you. At Tumble In Dry Cleaners that's what we want to be able to do for you by offering the best in Paramus laundry service.
Our Wash n Fold service means you never have to think about taking care of your laundering, except for putting away your clothes once the chore is complete. Our crew of laundry experts will give your clothing the personal care and attention you won't find any place else. Contact us now and let's begin today.
Laundry Pickup and Delivery in Paramus
At Tumble In Dry Cleaners we focus on being able to give you the most value for your hard earned dollar. You won't find a more reasonable price for the expert level of handiwork and customer care we offer. We work with you to create a modified laundry plan that works for you, including making alterations to our normal pickup or delivery times, if need be.
We can take care of your laundry needs and start right now. Don't keep wasting time taking care of tasks that our pros could be handling for you. For all of your Paramus dry cleaning and laundry service needs, call the Tumble In Dry Cleaners team today.
Latest Laundry Tips
Mahwah dry cleaning is essential for getting your toughest stains out. Trying to get stains out on your own can ruin certain materials. Over the counter stain lifters have chemicals in them that will get stain out, but also fade the fabric. This is why it's always best to take your clothes to a dry cleaner. You can actually do more harm than good by trying to take care of your own stained fabrics.

One of the many benefits that a professional Ramsey laundry service provider can take care of for you is pickup and delivery service. This certainly helps ease up your schedule. Life can become pretty hectic for all of us out there, so make it easier by not having to drive your laundry in. While not every laundry business offers this extra service, you should consider using one that does.

You invest a great deal of time, as well as money, in ending up with just the right wedding dress. What few bride-to-bes think about is what will happen to their gown once they move forward into bride status. Doesn't your bridal gown deserve the same happily ever after you do? Whether you plan to pass this down someday to your daughter for her wedding or not, it still deserves the highest level of care possible.
If you are looking for dry cleaners in Paramus, then please call 201-994-6797 or complete our online request form.