Wedding Dress Cleaning in Mahwah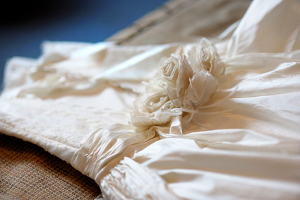 It is an honor for us here at Tumble In Dry Cleaners to be able to offer important services like Mahwah wedding dress cleaning and preservation. Your wedding gown is an everlasting memory. For some families, it is still about passing down the gown from one generation to another for this special day.
For others it is simply about preserving an everlasting memory for the rest of your life. So you need to know you have found someone to trust worthy of taking care of this special dress. At Tumble In Dry Cleaners we have the training, experience, skills and concern for taking care of your wedding dress. So contact us to find out more about all that we can do for you when it comes to preserving this important memento.
Since first opening in 2011, our goal has been to be able to be part of the community not just another business. Our Mahwah dry cleaners take great pride in being able to offer such an important service, such as the cleaning and preservation of your wedding gown. We pride ourselves on offering the highest standards of quality and care of bridal dresses in cleaning as well as preservation.
Professional Wedding Gown Cleaning
We can appreciate the fact that your dress is an everlasting memory of your special day. Our mission is to preserve your beautiful memory by providing you with our services which will withstand the very tests of time. It begins with professionally cleaning the gown so that it can be in the best condition possible in preparation for preservation.
Some bridal gowns are exposed to a greater amount of wear on their special day; stains can appear from hard to clean substances such as wine, cake icing, tar or grass. You can rest assured that we are able to remove the majority of stains you may have. We are not just the best in Mahwah for dry cleaning and laundry service, we also have mastered the art of professional wedding gown cleaning.
Mahwah Wedding Gown Preservation
You invested the time and effort into choosing just the right dress. You went for countless fittings to make sure it was just right for you. And you spent a small fortune on what is probably the most expensive gown of your life. So it only makes sense to want to keep it in tact. Yet too many brides take a chance by hanging it in their closet or, even worse, boxing it up in a non-temperature controlled attic. Let our pros get the job done for you. When it comes to your Mahwah wedding dress cleaning and preservation, give Tumble In Dry Cleaners a call!
Our Mahwah Wedding Dress Cleaning Experts Provide:
Wedding gown cleaning
Preserving wedding dress
Bridal gown cleaning
Wedding dress preservation
Wedding dress storage
Wedding gown preservation
Wedding dress cleaning
Wedding dress cleaning and preservation
Cleaning wedding dress
Bridal dress cleaning
Professional wedding dress cleaning
Wedding dress dry cleaning
Latest Laundry Tips
You invest a great deal of time, as well as money, in ending up with just the right wedding dress. What few bride-to-bes think about is what will happen to their gown once they move forward into bride status. Doesn't your bridal gown deserve the same happily ever after you do? Whether you plan to pass this down someday to your daughter for her wedding or not, it still deserves the highest level of care possible.
If you are looking for wedding dress cleaning or perservation services in Mahwah, then please call 201-994-6797 or complete our online request form.