Dry Cleaning & Stain Removal in Mahwah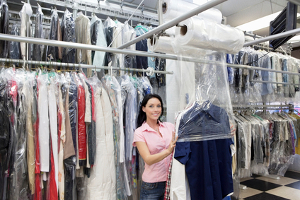 For the best in professional Mahwah dry cleaning and stain removal, the name to trust in is Tumble In Dry Cleaners. Since 2011 we have been taking care of the cleaning needs of locals here and making a difference in what it means to receive superior customer service. Our goal is to offer time saving techniques for you while also providing you with the best in competitive pricing.
Our Mahwah dry cleaners aim to not just meet your expectations but exceed them with the service we provide to you. We do this through careful attention to detail as well as the highest in quality service. This is why we take care of important details such as inspecting each garment before it is bagged. This is also why we offer free pick-up and delivery service to commercial office buildings and residential homes for all dry cleaning and laundry service needs.
Deliveries are scheduled for Monday and Thursday but can be arranged for any other day upon request. Interested parties may fill out the customer information form and call 201-994-6797 to schedule your first pick up. Payments are easily processed by credit card upon completion of work weekly. A complimentary bag is also included with the first pick up.
Professional Dry Cleaning Services
Mahwah dry cleaning uses fluids to remove soils and stains from fabrics. The process is able to clean delicate clothing and fabrics, as well as eradicate substances that may otherwise become permanent. An example of this is the ability to clean grease and oils in a manner that water cannot.
This cleaning process has the ability to return clothing to a clean and "like new" condition using precautions to prevent loss of color, shrinkage and change of texture or finish. Let our experts here at Tumble In Dry Cleaners tell you more about the benefits of dry cleaning and how we can take care of your service needs. Call or stop by today to find out more!
Mahwah Stain Removal Experts
Our laundering professionals and the methods we use are how we can provide you with the best in stain removal, as well. Stains are divided into two categories: water-soluble and solvent-soluble. Different types of stains require different treatments, which our pros are trained to administer. Why take chances with your clothing by trying DIY, over the counter, at-home cleaning methods when you could end up ruining these pieces forever?
Let us show you the difference you can see in having your clothing professionally laundered. Plus, the added convenience of our pick up and drop off service makes it that much wiser a choice. For all of your Mahwah dry cleaning and stain removal service needs, trust the Tumble In Dry Cleaners name.
Our Mahwah Dry Cleaners Provide:
Dry clean service
Stain removal laundry service
Dry cleaning laundry
Laundry services
Professional dry cleaning
Dry cleaning services
Laundry and dry cleaning
Dry cleaner services
Dry cleaning and laundry
Stain removal
Dry cleaning
Latest Laundry Tips
Mahwah dry cleaning is essential for getting your toughest stains out. Trying to get stains out on your own can ruin certain materials. Over the counter stain lifters have chemicals in them that will get stain out, but also fade the fabric. This is why it's always best to take your clothes to a dry cleaner. You can actually do more harm than good by trying to take care of your own stained fabrics.
If you are looking for professional dry cleaning and stain removal services in Mahwah, then please call 201-994-6797 or complete our online request form.