Mahwah Alterations & Tailoring Services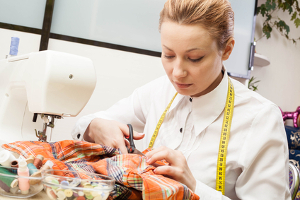 Getting professional Mahwah alterations and tailoring are essential for taking good care of your clothing. It could be you have found the ideal outfit but need it to fit your size. Or maybe your own size has changed and you need to make some adaptations, now you know the name to call on – Tumble In Dry Cleaners. Since 2011 we have been the one locals trust for all of their dry cleaning, laundering and related services.
Professional clothing alterations can make a big difference in your overall appearance. It says more about your concern for your appearance which can help make a strong first impression. If you have gained or lost weight an expert tailor can help to make adjustments that will salvage your wardrobe. And all of this is for a fraction of what it would cost for a whole new wardrobe.
If you have not used our Mahwah dry cleaners for this type or work before, all you have to do is ask around and you will hear about how good we are. But we also always recommend starting with a smaller job in order to see the level of professionalism we offer our clients. From replacing a zipper to reducing shirt shoulders and everything in between, you are going to love the work we do.
Professional Tailoring
While there are limits to what even the best tailors can do, we can almost always come up with a solution to alter or salvage your clothing. We think it is important to try to be creative problem solvers, not just typical cleaners. It may be that you need a special outfit for a special occasion or maybe it is just the attire you need to make a good impression at work.
Even if it is your casual every day wear, we know how important it is to have clothing that fits right. So let our Mahwah tailoring crew here at Tumble In Dry Cleaners take care of making your clothing count. Trust in the name that cares about taking care of its local customers.
Mahwah Alterations Tailor
Some people just have a body type that never seems to fit right in off the rack clothing. But this doesn't mean you have to settle for less than eh best! Call on the Tumble In Dry Cleaners team to help transform your wardrobe from ill fitting into flattering.
Professionals can work magic on making alterations to clothing so that it will fit as if custom made for you. The best part is that we can even help give you ideas for ways to make changes so you can love your wardrobe again. Call us for all of your tailoring and alterations in Mahwah.
Our Mahwah Alterations Experts Provide:
Alterations
Seamstress services
Dress alterations
Fur coat alterations
Clothes alterations
Tailoring
Jean alterations
Clothes tailor
Tailoriing Services
Garment alterations
Professional alterations
Coat alterations
Latest Laundry Tips
Mahwah dry cleaning is essential for getting your toughest stains out. Trying to get stains out on your own can ruin certain materials. Over the counter stain lifters have chemicals in them that will get stain out, but also fade the fabric. This is why it's always best to take your clothes to a dry cleaner. You can actually do more harm than good by trying to take care of your own stained fabrics.

One of the many benefits that a professional Ramsey laundry service provider can take care of for you is pickup and delivery service. This certainly helps ease up your schedule. Life can become pretty hectic for all of us out there, so make it easier by not having to drive your laundry in. While not every laundry business offers this extra service, you should consider using one that does.

You invest a great deal of time, as well as money, in ending up with just the right wedding dress. What few bride-to-bes think about is what will happen to their gown once they move forward into bride status. Doesn't your bridal gown deserve the same happily ever after you do? Whether you plan to pass this down someday to your daughter for her wedding or not, it still deserves the highest level of care possible.
If you are looking for professional alterations and/or tailoring in Mahwah, then please call 201-994-6797 or complete our online request form.