Reliable Dry Cleaners in Bergenfield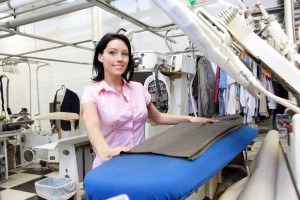 If you are looking for Bergenfield dry cleaners then what you really want is the best local service there is. So you will be glad to know that you have found just that. At Tumble In Dry Cleaners we have earned the impeccable reputation we have since first opening our doors in 2011. We take great pride in the work that we do and that shows in the results that we get – and the satisfied customer base we have.
Did you know the average household ends up doing laundry 4-5 days a week? It's true because most people end up doing smaller loads throughout the week and the household seems to always be in a state of washing, drying, folding or putting away laundry. So what if we could simply take care of it for you – right down to the pickup and drop off; all you have to do is put it away when you get home.
Bergenfield Laundry Service
Many people also think that taking care of their own laundry is more cost-effective than relying on us. Yet if you really break down the water, gas, electricity, detergents and other costs, in addition to your time, it isn't really saving you money. However, letting us do it could end up saving you a great deal of time and stress. Stop spending your free time worrying about getting the household laundry taken care of, let us do that for you.
We have all seen those homes that have clothes strewn all over and piles waiting to be folded or folded clothing waiting to be put away. In fact, you may be one of those homes. Don't let laundry take over your life, call on Tumble In Dry Cleaners and let us take care of all of this for you. Give us a call today and you will be glad that you did.
Laundry Pickup and Delivery in Bergenfield
Our main goal is to help make your life easier by helping you get your laundry situation under control. We love hearing our clients rave about how good their clothes look and, almost more importantly, how grateful they are to be able to spend the time we save them doing other things. Don't keep procrastinating; call on us today so we can get started.
There are plenty of reasons we have such a high rate of repeat and referral business, and it is about the quality of work we do and the superior customer service we are able to offer. We look forward to working with you and finding out how we can start making your life easier and your clothes cleaner. For your Bergenfield dry cleaners services, call on us today.
Latest Laundry Tips
Mahwah dry cleaning is essential for getting your toughest stains out. Trying to get stains out on your own can ruin certain materials. Over the counter stain lifters have chemicals in them that will get stain out, but also fade the fabric. This is why it's always best to take your clothes to a dry cleaner. You can actually do more harm than good by trying to take care of your own stained fabrics.

One of the many benefits that a professional Ramsey laundry service provider can take care of for you is pickup and delivery service. This certainly helps ease up your schedule. Life can become pretty hectic for all of us out there, so make it easier by not having to drive your laundry in. While not every laundry business offers this extra service, you should consider using one that does.

You invest a great deal of time, as well as money, in ending up with just the right wedding dress. What few bride-to-bes think about is what will happen to their gown once they move forward into bride status. Doesn't your bridal gown deserve the same happily ever after you do? Whether you plan to pass this down someday to your daughter for her wedding or not, it still deserves the highest level of care possible.