Fur Cleaning and Storage in Mahwah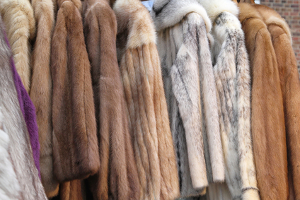 Part of the responsibility that comes with owning a fur is being able to care for it properly. A fur coat can last for generations to come but only if taken care of correctly. Otherwise, you could end up rapidly speeding up the lifespan so it is essential to have the best Mahwah fur cleaning and storage.
At Tumble In Dry Cleaners this is part of what we do. You need to be able to rely on trained, experienced and skilled professionals to take care of your cleaning and storing for this costly investment. Don't rely on just anyone to take care of this for you. And certainly do not take chances when it comes to storing yourself by considering the attic, basement or a standard storage until that lacks temperature control.
At Tumble In Dry Cleaners we care about your fur as much as you do. Which is why we take great measures in taking care of the cleaning and storing of this article for you. Find out more about what our Mahwah dry cleaners can do for you by calling or stopping by and letting us show you in person how the process works.
Fur Coat Cleaning Experts
We are the experts to call on for all of your fur cleaning in Mahwah and surrounding areas. We provide professional cleaning of coats, jackets, hats, bags and even cloth items with fur trim. You should have your fur item cleaned annually if you use it regularly and every other year if you do not. In order to maintain the life of your fur, it is essential to keep the skins moist as well as free from dust particles, which end up causing the skins to dry out.
The fur cleaning process will remove dust particles and add natural oils to the skin of the fur. The process we use also helps to add luster to the fur. With this level of upkeep, your furs will then last longer and look fantastic for the duration.
Mahwah Fur Storage and Cleaning Service
Of course proper storage is also important for care. This is not the type of item you can put in the back of your closet and hope it will weather well. We offer the best in temperature controlled, cooled storage in order to protect the integrity of your investment.
So what are you waiting for? Come see our facility for yourself and see how our service has helped make us number one since first opening our doors in 2011. We are a local, owner operated outfit and care about being part of the community not just another business. If you want your Mahwah fur cleaning and storage to preserve your item, trust the Tumble In Dry Cleaners name.
Our Mahwah Fur Cleaning Specialists Provide:
Fur cleaning and storage
Dry clean fur
Garment cleaning
Dry cleaning fur
Dry clean fur coat
Fur dry cleaning
Professional dry cleaning
Fur coat alterations
Fur storage and cleaning
Fur cleaning
Fur coat cleaners
Dry cleaning services
Latest Laundry Tips
Mahwah dry cleaning is essential for getting your toughest stains out. Trying to get stains out on your own can ruin certain materials. Over the counter stain lifters have chemicals in them that will get stain out, but also fade the fabric. This is why it's always best to take your clothes to a dry cleaner. You can actually do more harm than good by trying to take care of your own stained fabrics.

One of the many benefits that a professional Ramsey laundry service provider can take care of for you is pickup and delivery service. This certainly helps ease up your schedule. Life can become pretty hectic for all of us out there, so make it easier by not having to drive your laundry in. While not every laundry business offers this extra service, you should consider using one that does.

You invest a great deal of time, as well as money, in ending up with just the right wedding dress. What few bride-to-bes think about is what will happen to their gown once they move forward into bride status. Doesn't your bridal gown deserve the same happily ever after you do? Whether you plan to pass this down someday to your daughter for her wedding or not, it still deserves the highest level of care possible.
If you are looking for professional fur cleaning services in Mahwah, then please call 201-994-6797 or complete our online request form.