Benefits Of Professional Dry Cleaning And Stain Removal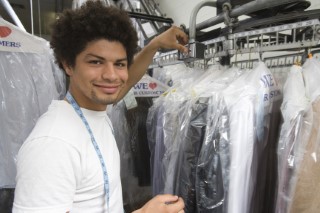 If you've never taken your garments to your local Mahwah dry cleaner, then you're missing out on the benefits professional dry cleaning offers. The benefits of having your clothes or bedding dry cleaned goes beyond just simple stain removal or freshening.
To detail all the benefits, our dry cleaning experts at Tumble In Dry have put together this list that will make you wonder why you didn't start using dry cleaning services earlier.
Professional Dry Cleaners Take Care Of The Details
Doing laundry at home isn't any fun; there's the washing, drying, ironing, folding and then putting the clothes away. Laundry day takes a huge chunk of your time that you could be doing other, more fun activities.
When you take your clothes to a professional dry cleaner in Mahwah, they handle all those details for you and all you're responsible for is the putting away.
The Convenience Of Dry Cleaning
Dry cleaning is a convenient way to get your clothes cleaned when your schedule is super busy. Just drop off your garments and pick them up all clean and folded and ready to put away; that's a huge time saver.
For even more convenience, we offer free pickup and delivery.
Dry Cleaners Can Handle Large Items Easily
Larger items are difficult, if not impossible, to clean at home in a regular sized washing machine. Tumble In Dry can handle any large item that needs cleaned or expert stain removal. We can dry clean:
Drapes
Area Rugs
Oversized Comforters
Slipcovers
Plus much more!
Professional Stain And Odor Removal
There are many store-bought stain removal products out there that will do the trick, but sometimes at the cost of your garment. You can trust your dry cleaner to get the most stubborn of stains and odors out of your clothing.
If you have an article of clothing that you just can't get the stain out, let your local Mahwah dry cleaner handle the job for you with professional stain removal.
If you are searching for professional dry cleaning and stain removal services in Mahwah, call Tumble In Dry Cleaners at 201-994-6797 or fill out our online request form.