Top Benefits of Mahwah Dry Cleaning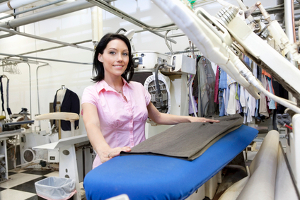 Mahwah dry cleaning is essential for getting your toughest stains out. Trying to get stains out on your own can ruin certain materials. Over the counter stain lifters have chemicals in them that will get stains out, but also fade the fabric. This is why it's always best to take your clothes to a dry cleaner. You can actually do more harm than good by trying to take care of your own stained fabrics.
Dry cleaning works by using a waterless method. Lots of dry cleaners use this method because water damages certain materials. Always look on the back of a tag, on your favorite pieces of clothing, to see if it says "Dry Clean Only". If it does, don't use a regular washing machine. There is a wide assortment of items that can be cleaned at a dry cleaning facility, including but not limited to:
Evening gowns
Suit jackets
Silk fabric
Linen
Vintage clothing
And so much more
Of course, the prices vary depending on the items you are bringing in for cleaning. But it is worth the cost because they are often items you could not have cleaned in any other manner. One of the best things about utilizing a dry cleaner is they do not take long to get your items cleaned. Let's say that you need your suit jacket for an upcoming dinner party. If you drop it off early enough, you might just get it back that same week.
Understanding the Process
Dry cleaning is a lot like cleaning your clothes at home except dry cleaning does not utilize soap and water. Instead, dry cleaning uses a chemical solution to get your clothes as clean as they can be. This is also an ideal way to get out tough spots that would otherwise set in and become stains. Once an item has been pretreated, a professional dry cleaner will place your clothing items into a machine.
The machine resembles a washer, but it's a lot more industrial. This large piece of machinery will work until it gets your clothing completely cleaned. The end result is that you will have the clean clothing you want but without running the risk of damaging the material or fabric.
Making the Right Choice
At Tumble In Dry Cleaners, we are the team to trust for all of your Mahwah dry cleaning service needs. Since 2011 we have been taking care of the laundering needs of locals and earning the impeccable reputation we have for it. We will even pick up and deliver your clothing to make it that much easier for you.
If you are searching for dry cleaning services in Mahwah, call Tumble In Dry Cleaners at 201-994-6797 or fill out our online request form.