What to Know About Allendale Wedding Gown Cleaning & Preservation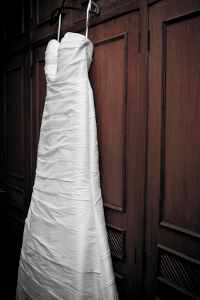 You invest a great deal of time, as well as money, in ending up with just the right wedding dress. What few bride-to-bes think about is what will happen to their gown once they move forward into bride status. Doesn't your bridal gown deserve the same happily ever after you do? Whether you plan to pass this down someday to your daughter for her wedding or not, it still deserves the highest level of care possible.
In order to preserve the color, shape and fabric condition you have to be thinking about Allendale wedding gown cleaning and preservation. There are several steps involved, all of which end up giving you the perfectly preserved gown you want. Don't make the mistake of assuming you can store this dress in your attic or basement. And even storage rental spaces that are temperature controlled are not geared towards preserving such a delicate item.
What's Involved?
For starters, before putting your wedding dress away for many years to come, you want to make sure it is in the best condition to do so. So this means getting your dress professionally cleaned. A proper, professional dry cleaner will be able to take care of common but difficult stains that end up on wedding gowns like grass, tar, wine, cake icing and lipstick.
In fact, when possible it is a good idea to take your dress after your wedding and before your honeymoon in order to get it clean before stains can set in, or arrange for someone else to take care of this for you. So while making your wedding plans go ahead and make finding the right company to take care of your wedding dress cleaning and preservation a priority.
Trust the Tumble In Dry Cleaners Name
At Tumble In Dry Cleaners preserving your bridal gown is as important to us as it is to you. We want to be able to help you care for this important aspect of your big day by making it something you can continue to cherish for decades to come. But too many brides put off thinking about this until months after their gown has been hanging in the closet and is in the way. Or, even worse, they wait until they realize the heat in the attic or dampness in the basement is causing the dress harm.
Let us take care of your gown before it becomes damaged. We will take care of professional Allendale dry cleaning and stain removal and then will help you to preserve it. Let us show you in person how our quality workmanship and customer care earned us the flawless reputation we have.
If you are searching for a wedding gown cleaning and preservation expert in Allendale, call Tumble In Dry Cleaners at 201-994-6797 or fill out our online request form.