What's the Difference Between "Tailoring" and "Alterations"?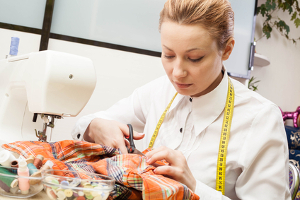 When people are discussing clothing and garments, the terms "tailoring" and "alternations" are thrown around a lot. Many times, people use these two terms interchangeably, but they actually have two very different meanings. At Tumble In Dry Cleaners, our Mahwah dry cleaners can provide you with professional tailoring and alterations services to help you keep your clothing comfortable, attractive, and in great condition.
Keeping your clothing in great shape is a major priority to you, and our professionals are here to help you do that. Understanding the services that we provide more thoroughly can To help our clientele better understand the services that we provide, here is a quick explanation of the difference between tailoring and alterations:
What is Tailoring?
Tailoring is custom fitting a garment to the person who is going to wear it. A custom fit means that the clothing will be as attractive and as comfortable as possible. Our Mahwah tailors will be able to make a huge difference in the way that your clothing looks, fits, and feels, and we'll always guarantee your complete satisfaction with our services.
Tailoring will provide you with a complete custom fit for shirts, pants, and any other garments. Tailoring is adapting an article of clothing on a minor to major scale to able to meet your fashion needs and tastes, and to ensure that the clothing fits you perfectly.
What are Alterations?
On the other hand, alterations are less extensive changes to the garments. They'll still change the way that the garment fits, and they'll still be customized to you, but they typically focus on one or only a couple of areas. Alterations include simple tasks, like:
Hemming or shortening pants
Adjusting waist lines of garments
Tapering
Shortening sleeves
These duties are typically simple tasks that don't require high levels of experience, whereas tailoring is involved and requires more complex work. Our Mahwah tailors can provide you with alterations quickly, and we'll always guarantee your satisfaction with our work.
Our Tailoring and Alterations
If you're looking for either tailoring or alteration services in Mahwah—or if you're looking for both—you can always rely on our trained and experienced for quality work. No matter how small or large the job is, our professionals will always be ready and eager to complete it with the highest standards of quality. We understand how important your clothing is to you, and we'll always do whatever it takes to provide you with quality, customized service that you can rely on.
If you're looking for tailoring and alteration services in Mahwah, call Tumble In Dry Cleaners at 201-994-6797 or complete our online request form.