Archive for Category 'Wedding Dress Cleaning & Preservation'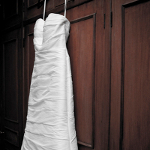 You invest a great deal of time, as well as money, in ending up with just the right wedding dress. What few bride-to-bes think about is what will happen to their gown once they move forward into bride status. Doesn't your bridal gown deserve the same happily ever after you do? Whether you plan to pass this down someday to your daughter for her wedding or not, it still deserves the highest level of care possible.
If you are searching for professional dry cleaners in Mahwah, call Tumble In Dry Cleaners at 201-994-6797 or fill out our online request form.