Your Premier Dry Cleaners In Little Ferry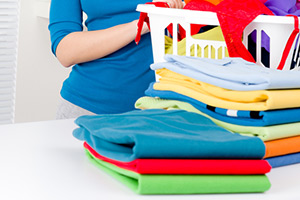 There's no point in trusting just anyone to do your dry cleaning. If you're looking for a reliable dry cleaners and laundry service in Little Ferry, Tumble In Dry Cleaners is the name to remember.
Our staff is friendly, taking care of our customers in Little Ferry with expertise, and our technicians are skilled in all aspects of dry cleaning, stain removal, and laundry services. Bring your garments by or let us offer you our free pickup and delivery service!
We're ready to assist you!
Dry Cleaning & Stain Removal Services in Little Ferry
We offer a complete range of dry cleaning services including for wedding dresses, area rugs, and other delicates. If there's a stain on the item, we're happy to handle the stain removal for you professionally.
We have many years of experience as your local Little Ferry dry cleaners, so you can put your trust in us! You can also count on us for:
Wedding Dress Cleaning & Storage
Drapery Cleaning
Area Rug Cleaning
Tailoring & Alterations
and more!
Little Ferry Laundry Wash & Fold Service
Washing laundry is a chore that can really pile up, and it's no wonder since it can be a major pain. Are you looking for a wash & fold service for your business uniforms or family laundry? Don't hesitate to give us a call because we can handle the cleaning as well as the delivery and pick up service!
Delivery & Pick Up Service For Little Ferry
Our professionals make it really easy on you with our Delivery & Pick Up Service. There's no need for you to come to our dry cleaners to drop off your laundry, just give us a call so we can pick it up and then bring it back when we're finished!
Company Uniforms
Drapes
Area Rugs
Purses
Silk
Comforters & Bedding
All types of Laundry
Latest Laundry Tips
Mahwah dry cleaning is essential for getting your toughest stains out. Trying to get stains out on your own can ruin certain materials. Over the counter stain lifters have chemicals in them that will get stain out, but also fade the fabric. This is why it's always best to take your clothes to a dry cleaner. You can actually do more harm than good by trying to take care of your own stained fabrics.

One of the many benefits that a professional Ramsey laundry service provider can take care of for you is pickup and delivery service. This certainly helps ease up your schedule. Life can become pretty hectic for all of us out there, so make it easier by not having to drive your laundry in. While not every laundry business offers this extra service, you should consider using one that does.
If you are looking for a dry cleaning expert in Little Ferry, NJ, then please call 201-994-6797 or complete our online request form.