Professional Dry Cleaners For Englewood Cliffs, NJ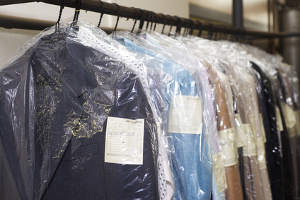 Tumble In Dry Cleaners is the Englewood Cliffs professional full service dry cleaning and laundry service. From area rugs, Wash N Fold, wedding gown cleaning and preservation, storage, fur cleaning, collared shirt cleaning, tailoring and alterations, and a score of other services, you'll have the help you need to stay looking sharp every day.
Cleaning clothes is not just about sticking them in the washing machine, adding detergent, and drying them. To do it safely, there are certain techniques that certain materials require in order to be safely cleaned. Spot removal or stain removal, is another are that requires some expertise to get it properly and safely done. Instead of trying to take care of these things yourself, you can trust our professionalism that ensures your clothing looks great and not damaged.
Affordable Englewood Cliffs Wash N Fold Service
If you don't have time or don't want to do the work, bring your Englewood Cliffs laundry in to Tumble In Dry Cleaners for our affordable Wash N Fold service. Or better yet, let us pick it up and deliver it for you after it's all fresh and tidy. Our affordable rates offer you great options to have this service done instead of doing it yourself or dealing with piles of dirty laundry that seem to wind up all over your Englewood house. All you'll have to do is put it away after it's delivered while enjoying how sharp you look every day!
Englewood Cliffs Tailoring & Alterations
If you have recently purchased clothes or haven't worn new clothes because they just don't fit right, our Englewood Cliffs tailoring and alterations service may be just what you need to look and feel your best. Since clothes are indeed an investment, altering them to fit your specific shape is your best option for a great looking wardrobe. You'll love our expertise and affordable rates! Call today or come by and we'll take great care of your alterations and tailoring needs.
Englewood Cliffs Professional Dry Cleaning Keeps Clothing Safe
Our professional Englewood Cliffs dry cleaning service keeps your delicate materials safe from color fading and other damages. Washing with water is not the only solution or the most effective on many materials. Dry cleaning done right ensures your clothes are effectively and safely freshly cleaned. There are different techniques involved when cleaning and removing stains in different materials. Tumble In Dry Cleaners are the experts you can trust for all your delicate clothing, handbags, and more.
Latest Laundry Tips
Mahwah dry cleaning is essential for getting your toughest stains out. Trying to get stains out on your own can ruin certain materials. Over the counter stain lifters have chemicals in them that will get stain out, but also fade the fabric. This is why it's always best to take your clothes to a dry cleaner. You can actually do more harm than good by trying to take care of your own stained fabrics.

One of the many benefits that a professional Ramsey laundry service provider can take care of for you is pickup and delivery service. This certainly helps ease up your schedule. Life can become pretty hectic for all of us out there, so make it easier by not having to drive your laundry in. While not every laundry business offers this extra service, you should consider using one that does.

You invest a great deal of time, as well as money, in ending up with just the right wedding dress. What few bride-to-bes think about is what will happen to their gown once they move forward into bride status. Doesn't your bridal gown deserve the same happily ever after you do? Whether you plan to pass this down someday to your daughter for her wedding or not, it still deserves the highest level of care possible.
If you are looking for a dry cleaning expert in Englewood Cliffs, NJ, then please call 201-994-6797 or complete our online request form.