Tips On Cleaning Leather Jackets & Purses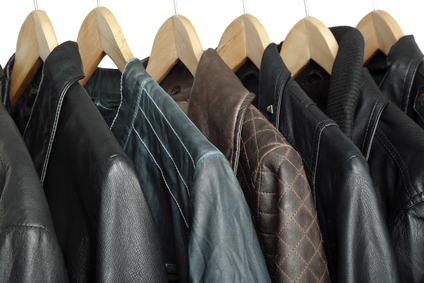 The last thing you want to do is follow advice gurus who tell you to use a mixture of dish soap and warm water, vinegar, or the washing machine to clean leather.
Leather needs special care when cleaning in order to keep it from drying out. If you want to maximize the life of your beautiful leather jacket or purse, listen to the advice of the leather cleaning pros at Tumble In Dry Cleaners in Mahwah. We've been cleaning leather handbags, jackets, pillows, and other items in New Jersey for many years.
Improper leather cleaning methods can cause drying and can cause dirt to set in as permanent stains. The colorfastness of the garment may be at risk as well with harsh cleaning methods.
This is why most home methods should only be done when absolutely necessary. Catch liquid or soil early. For liquid, dab with a dry cloth and allow as much liquid as possible to soak into the cloth. For soil, use a cloth dampened with water and gently dab at the area. Don't rub.
Your best bet is to entrust your leather jacket or purse to an experienced cleaning professional like ours. There really is no substitute for proper professional leather cleaning service.
Preventing Leather Collar Stains
One of the easiest ways to keep your leather garment clean is to prevent stains. The collar area is always close to the skin, so you can prevent stains easily there. Try wearing a scarf to keep makeup from getting on your leather jacket. This is a simple solution. If your jacket isn't lined, you may want to consider getting a lining put in. This keeps the inside of the leather fresher.
You may think that setting your leather jacket aside to avoid drink or food spills is a good idea, but you will actually be creating more risk by doing this. Keep your jacket on, if you don't get too hot, instead of setting it down in places where others can or may have already spilled things. Hang it when necessary, but not on the back of a chair.
Cleaning Leather Garments & Purses
The last thing you want to do is dry out your leather garment or purse during the cleaning process. Once the essential natural oils of the leather are leached out, problems with cracking and discoloration are common. Leather needs these essential oils to remain supple and strong. Professional leather cleaning involves cleaning the leather with safe solutions that also condition the leather in the process.
The Benefits Of Dry Cleaning Leather
If you find a dry cleaner who doesn't use harsh chemicals and methods to clean your leather garments and handbags, you're in luck. This is the simplest, safest, and most effective solution to keeping your beautiful clothes and accessories clean. Not all dry cleaners take care when cleaning leather, so be careful who you choose to get the job done. If you live in Mahwah or any of our other service areas, call to ask about our leather cleaning service. We'd be happy to care for your garments.
If you have questions or need Leather Cleaning in Mahwah, then please call Tumble In Dry Cleaners at 201-994-6797 or complete our online request form.